IT'S REVIVAL TIME!
SATURDAY JANUARY 25TH 2020
EMBASSY SUITES HOTEL MILPITAS CA.
SETTING THE CAPTIVES FREE!!
As we venture into 2020. Often our destiny is connected with those we surround our lives with. Our friends, family, co-workers and associates. They influence us to make right or wrong decisions. Yet each decision we make for our lives needs to be center around GOD. Your chosen friends should always turn your heart to follow GOD. Let the Glory of GOD be your focus.
I challenge you to look up every scripture in the word that talks about GODLY friendships.
When you look up the scriptures below and other verses, think about the friends you have chosen to journey with you into 2020. They should be the ones who strengthen your walk with GOD. Those whose lives also bring honor to GOD.
Here are a few scriptures to get you started.
I Corthians 15:33
Don't be deceived "Bad company corrupts good morals"
Psalms 1:1-3
Blessed is the man that walketh not in the counsel of the ungodly, nor standeth in the way of sinners, nor sitteth in the seat of the scornful.
But his delight is in the law of the Lord; and in his law doth he meditate day and night.
And he shall be like a tree planted by the rivers of water, that bringeth forth his fruit in his season; his leaf also shall not wither; and whatsoever he doeth shall prosper.
Proverbs 13:20
He that walketh with wise men shall be wise: but a companion of fools shall be destroyed.
Proverbs 12:26
The righteous is more excellent than his neighbor: but the way of the wicked seduceth them.
Proverbs 27:5-6
Open rebuke is better than secret love. Faithful are the wounds of a friend; but the kisses of an enemy are deceitful.
Proverbs 16:29
A violent man enticeth his neighbour, and leadeth him into the way that is not good.
Psalm 26:4-5
I have not sat with vain persons, neither will I go in with dissemblers. I have hated the congregation of evil doers; and will not sit with the wicked.
I Corinthians 5:11
But now I have written unto you not to keep company, if any man that is called a brother be a fornicator, or covetous, or an idolator, or a railer, or a drunkard, or an extortioner; with such an one no not to eat.
There are so many scriptures. Look them up and choose your journey companions wisely.
The year 2020, is a year of ​HIS plans!
Don't stop trying!
Don't stop reaching!
Don't stop BELIEVING and having FAITH in GOD!
Don't stop TRUSTING GOD!
Just don't QUIT! ​
Jeremiah 29:11-13
God said, "For I know the thoughts that I think toward you, saith the Lord, thoughts of peace, and not of evil, to give you an expected end. Then shall ye call upon me, and ye shall go and pray unto me, and I will hearken unto you. And ye shall seek me, and find me, when ye shall search for me with all your heart."
In HIS LOVE
Pastor "J"
Our Next Event is on:
Sat. January 25th, 2020@5:00 PM
HE Came to Set the Captive Free!
A special healing and deliverance service, for those struggling with life's problems. Come hear a Brother & Sister, who GOD redeemed!
These two powerful testimonies of former; demon-possession, a soul sold to satan, witchcraft, drug addicts, mean spirited, homeless, liars, manipulators, fornicators, thieves, and the frequent visits to jail.
They did it all!
Come READY to bring to the altar all that you are ready to surrender.
Come to be set FREE!
Sat. January 25th, 2020@5:00 PM
Just as Eli & Victoria has chosen to make GOD, Lord of their life, over addictions, gangs, and a chaotic lifestyle. GOD can deliver you too!
Come hear the full testimony of
Eli & Victoria Contreras (click the name to hear brief testimony)
Embassy Suites by Hilton Milpitas Silicon Valley
901 E. Calaveras Blvd. Milpitas, CA. 95035
GOD WANTS TO SET YOU FREE TOO!
********************************************
Labour not for the meat which perisheth, but for that meat which endureth unto everlasting life, which the Son of man shall give unto you: for him hath God the Father sealed. John 6:27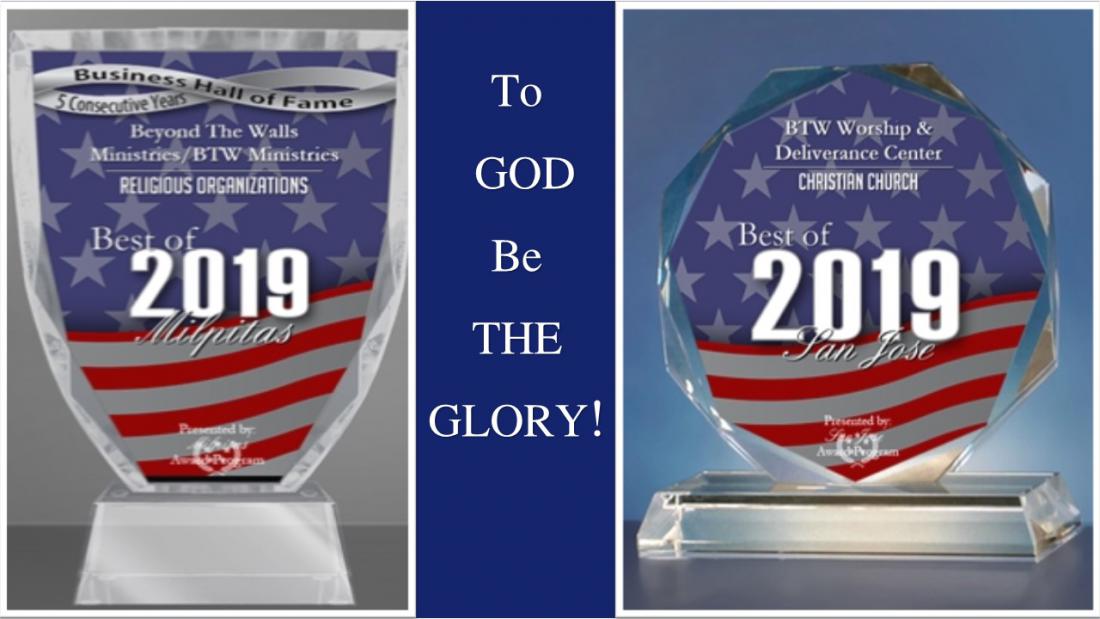 Thank you for your donation!

Beyond The Walls Ministries International Announcements
Beyond The Walls Ministries International announcements here.

Daily Bible Verse
1/23/2020
Love is patient and kind. Love is not jealous or boastful or proud or rude. Love does not demand its own way. Love is not irritable, and it keeps no record of when it has been wronged.It is never glad about injustice but rejoices whenever the truth wins outLove never gives up, never loses faith, is always hopeful, and endures through every circumstance. 1 Corintheans 13:4-7(NLT)