KINGDOM WARRIORS!
"The Silent Epidemic"
Following last weeks tragedy of Pastor Jarred Wilson unfortunate suicide, it became a segway to speak about the topic of mental illness. Recently "Starbucks is taking steps to improve its employees' mental health with a new long-term initiative that includes an enhanced employee assistance program and mental health training for store managers, beginning in the second quarter of next year."
The world is increasingly becoming aware of the mental illness our society is facing in large degrees. This is indicative of the increase of crimes, senseless murders, lawlessness, abuse and suicides of all ages. This is no longer the Jezabel Spirit at work, this is deeper darkness invading our society. Christians are not exempt. What are we doing to help our community?
The word of GOD gives us a glimpse of this evil mentality.
Psalm 36: 1-4 "The transgression of the wicked saith within my heart, that there is no fear of God before his eyes. For he flattereth himself in his own eyes, until his iniquity be found to be hateful. The words of his mouth are iniquity and deceit: he hath left off to be wise, and to do good. He deviseth mischief upon his bed; he setteth himself in a way that is not good; he abhorreth not evil."

For the past few years the word, "entitlement", has been thrown around like a volleyball. Where did it come from? Why is it being largely used? What is GOD saying? How does it end?
These were never questions I asked or even cared to understand...until.
Until I begin to meet the victims of this silent epidemic; personality disorders, Narcissism, Psychopaths, and Sociopaths.
These are societies silent killers, their victims are left speechless by the abuse.
As a Christian community, the abuse of mental illness is not always addressed. Often it is overlooked, much like the schemes of satan. Many people don't believe he exists. Well, he does! satan embodies humans to act out his plans in this world.
Recently I sat in front of women and men who were the victims of either Narcissism, Psychopath, or Sociopathic behavior. The stories I heard were the relentless work of the mastermind himself, satan. As the hearts of these victims poured out the experienced abuse. I witnessed the shells of emptiness.
She was a physician assistant. A wife of 40 years who could no longer live in her home, or town. The home belonged to her, yet emotionally she couldn't handle being in the same town as her abuser. She married her childhood sweetheart. He abused her mentally, emotionally, and physically. It's been five years since the divorce. Her story continues to be a nightmare. She came seeking freedom. Or the wife whose husband gradually destroyed everything she lived and worked for, including sabotaging her career license. Her marriage lasted 26 years. Three years after the divorce she is still living in a fog.
There is yet another wife, who was left in such a damaged mental state she is living on heavy psychotic medication. Sure she can hold a conversation, but her guills of protection pricks others before they get a chance to know her. She is living from place to place, searching for self-worth. The missionary whose wife decided GOD was not enough in their marriage, made a decision. She added another man in her marriage equation, it resulted in pregnancy. As the missionaries wife, she felt entitled to return home for her husband to care for her and her newborn. His love for GOD won't allow him to refuse her and her child, care. Tortured by entitlement!!
The husband who fights to see his daughter is refused visitation rights unless he meets his "ex-wifes" high demands. Her emotional and mental manipulation has scarred his once Christian life. He now lives under the weight of multiple sexual partners male and female. He is living a life full of seduction, lies, deception, and no self-worth.
What do these stories and many others have in common? They are believers. They have been manipulated, controlled devalued, and abused. Each of them was caught into a relationship/marriage with a mate/spouse that has a personality disorder. I am no expert in the field of Narcissism, Psychopaths, or Sociopaths. My curiosity came as a wife sat declaring her husband to be a narcissist, she was a social worker. She was damaged, her story matched the ones I had recently heard. As I begin to research these diseases, I found it has no respecter of race, gender, social status or culture. It's victims become a landing place for the tentacles of satan's diabolic plot. A design to kill, steal and destroy!
John 10:10 The thief cometh not, but for to steal, and to kill, and to destroy: I am come that they might have life, and that they might have it more abundantly.
I am going to take my time to unfold this disease and its effect on the Christian community. What we can and MUST do. This will be from a biblical perspective. The goal is to give hope to those who have been a victim to satans plan and scheme against their life. Proverbs 13:12 "Hope deferred maketh the heart sick, But when the desire cometh. it is a tree of life." (a heartsick is a state of depression)
A part of understanding the evil devices are to be savvy regarding the word of God. We need to know HIS word, pray HIS word and to apply HIS word. We must not be ignorant of satans devices.
II Corinthians 2:11 "Lest Satan should get an advantage of us: for we are not ignorant of his devices."
Today, 22 Veterans died today by suicide. If you are a veteran in crisis call the veterans crisis line, 1-800-273-8255 press 1
Kingdom Warriors!! Pray for those who are in a state of mental illness, and their victims.

Part II next week.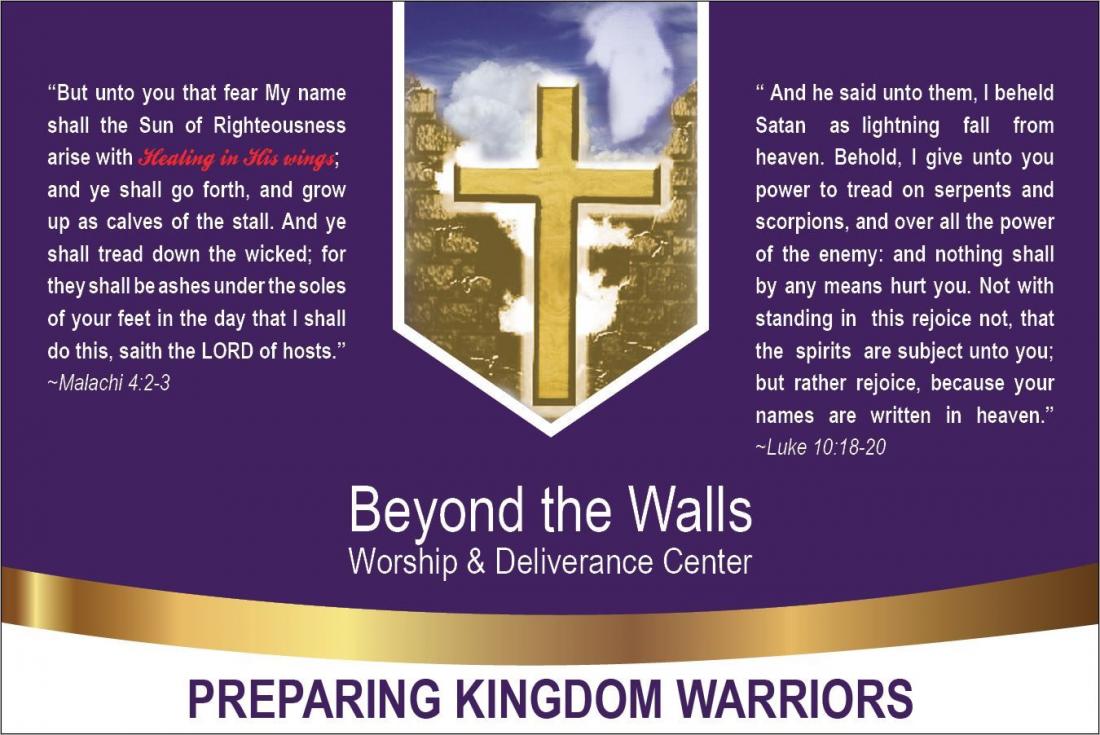 Beyond The Walls Ministries International Announcements
Join us on Sundays at 2:30pm

Daily Bible Verse
9/19/2019
The advice of the wise is like a life-giving fountain; those who accept it avoid the snares of death. Proverbs 13:14